[NIKON Z 9, VR 120-300mm f/2.8G + 2X Converter, Mode = Aperture Priority, ISO 22800, 1/2000, ƒ/5.6, (35mm = 600)]
Getting sharp and in-focus photos of football, one must be sure you are using a fast shutter speed.
For my past two games at the Mercedes Benz stadium covering the Chick-fil-A Kickoff Games, I have been using 1/2000 as my shutter speed.
The primary lens I use with my Nikon Z9 is the Sigma 120-300mm f/2.8G Sport with the TC-2001 2X Converter. I own the TC-1401, the 1.4X converter, but rarely use it.
I also have on my second Nikon Z9 the 28-300mm ƒ/3.5-5.6 lens. This lets me get a lot of different shots without the worry of not having the right lens to get a picture.
As long as the 2X converter is on the Sigma 120-300mm f/2.8G Sport, I am shooting with ISO above ISO 11400. More than half of those action shots are at ISO 25600.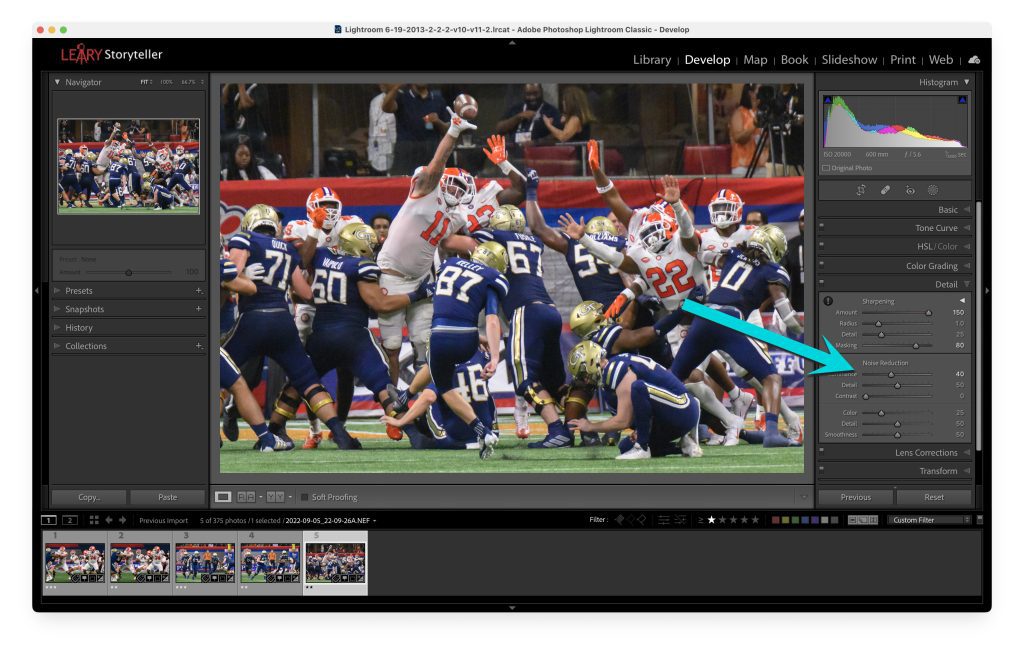 I use Lightroom to lower the noise by sliding the noise to about 40 on that scale.
Today's cameras, especially Nikon's Z9, let me get some of the best action shots in my career. Why? Shutter speed has got to be high, and secondarily, the camera must be able to lock in the focus on the players.
I have found that the Nikon Z9 focuses better than any camera I have ever owned, and the lack of noise is incredible at those ISOs I have to use.
Here are more photos with the settings that were used. Bear in mind that since the 45.7MP Stacked backside-illuminated sensor, it lets me crop a lot more than the Nikon D5.