Harpist plays for the VIP Reception at Marriott Marquis in Atlanta during the Islamic Speakers Bureau's "Celebrating Women of Influence ISB Gala"
[NIKON D5, 14.0-24.0 mm f/2.8, Mode = Aperture Priority, ISO 4000, 1/200, ƒ/3.2, (35mm = 14)]
On October 12th I was covering the Islamic Speakers Bureau's "Celebrating Women of Influence ISB Gala" that was held at the Marriott Marquis in downtown Atlanta, Georgia.
If you ever have to cover an event like this I recommend a few things.
Two or More Cameras
Anytime you shoot professionally you need a backup camera. This is in case one stops working for any reason at all. I tend to put the Nikon 28-300mm on one camera and the Nikon 14-24mm on the other camera.
I can get every thing I need with this range of glass.
For this event I had a third camera on a tripod with the Sigma 120-300mm & 2X converter so that I can shoot more straight into people's faces from across the room rather than everything shooting up at them when I am closer.
I had to be down front sometimes and had to shoot up at the speakers on the podium as you see here.
After a speaker was introducing an award winner I snapped a photo of them together with some of the board members.
As I mentioned in my last blog post I went on stage before the event started and did a custom white balance with my Nikon Cameras. On the Nikon Z6 & Nikon D5 you can store up to 6 different presets. This way you can do a custom white balance for the stage and then go to another room with different setting and set it on a different Preset.
Have a Flash
Now with the stage having two sets of lights at 45º to the stage it was really even lighting. However, walking around in the Atrium of the Marriott Marquis the light was needing help with flash.
Laura Espeut, the second shooter, got this photo of me with the Nikon Z6 with a 28-300mm as well as the Godox V860ii on the camera and the MagMod Magshpere on the hotshoe.
Save your Back
To carry two cameras I use the HoldFast Gear Money Maker Two-Camera Harness with Silver Hardware (English Bridle, Chestnut)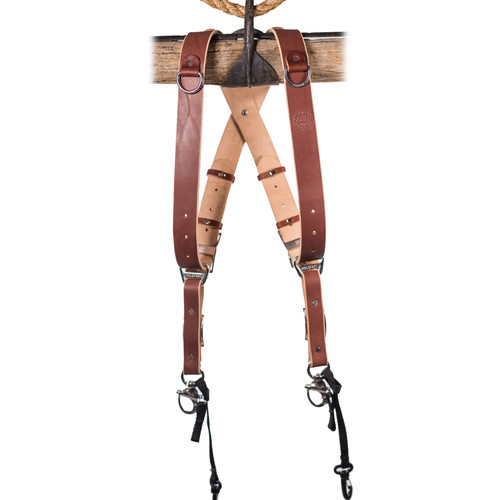 Quality Photography Demands A Digital Workflow
The bottom line is you need a workflow. You prepare days ahead from talking with the client to manage expectations to getting a shot list. You then must prepare before the event by charging batteries and checking the sensor of each camera for dust.
I recommend you creating a workflow list of things you need to do for every photo shoot. Be sure that the order you do things is in the correct order. Print it out and even laminate that list and keep it with you in your camera bag.
In my last blog post I showed you some of the white balance when done without a custom white balance and then doing one.
What I hope you are hearing from me today is that if the quality isn't up to the standards you want to represent what you can do for clients, the answer is most likely in your workflow. It is something you skipped or modified from what is the ideal way to shoot the assignment.