Nikon D4, 14-24mm, ISO 12,800, ƒ/5.6, 1/200
Today I was blessed by one of my daughter's friends. She came up to me to tell me how good my photos were of the play my daughter was in the other night. I think she thought I wasn't taking her compliment seriously enough and so she went on to tell me how nice the photos were.
I seldom ever hear how nice my photos are any more. People thank me for taking photos and yes I occasionally hear a comment, but for the most part once you establish yourself as a professional then people just expect a quality image.
The young lady continued to tell me how impressed she was with my logo as well.  I had to tell her I was lucky to have a good friend design that for me. My daughter's friend was very kind and gave me a blessing.
The fly on the wall
Nikon D4, 14-24mm, ISO 5,600, ƒ/5.6, 1/200
Fly-on-the-wall is a style of documentary-making used in filmmaking and television production. The name derived from the idea that events are seen candidly, as a fly on a wall might see them. In the purest form of fly-on-the-wall documentary-making, the camera crew works as unobtrusively as possible. –Wikipedia 
Nikon D4, 14-24mm, ISO 10,000, ƒ/5.6, 1/200
If you are able to put people at ease then they will allow you to be present as if you were not there. There is a trust that must be established to pull this style of photography off.
I think this is one of the most powerful forms of photography. The best photojournalists do this every time they pick up the camera.
The fly in the room
I think the "fly on the wall" isn't the best description, because this just means you are in the room. More like ease dropping on the conversation. The photos that are most compelling require good composition and lighting on top of the decisive moment to capture the essence of the subject and message.
Nikon D4, 28-300mm, ISO 12,800, ƒ/8, 1/200
I like to see myself moving around the room like a fly. Have you ever tried to get rid of a fly and they seem to disappear in the room only to notice them right in front of you at times. While I do not want to equate what I am doing as being a pest, I do want you to notice how the fly is able to get very close and quickly get out of the way.
The obstacle course
Nikon D4, 28-300mm, ISO 4,000, ƒ/5.6, 1/250 [Combating the teleprompter and microphone]
Most every place I am photographing is like working an obstacle course. To get a good line of sight to a subject requires me to move a great deal at times.
Microphones on podiums often are right in front of the speaker's face. You are moving side to side and even behind the speaker to find an angle to not just get rid of the microphone, but sometimes teleprompters and things like flower arrangements.
Nikon D4, 28-300mm, ISO 11,400, ƒ/5.6, 1/250 [Moved to the side to eliminate the problem with the teleprompter and microphone.]
Those are just the things between the camera and subject and then you have to contend with a background. Often you are trying to move to keep things from growing out the head of the speaker or looking like they are being impaled by something.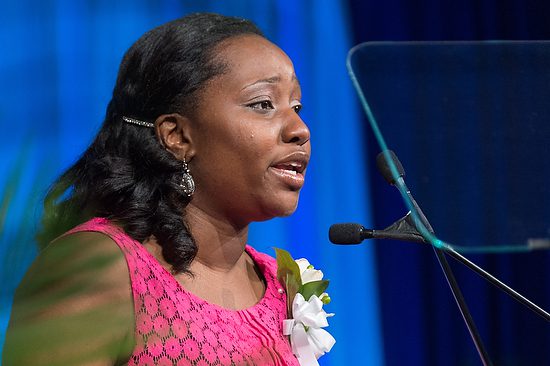 Nikon D4, 28-300mm, ISO 6400, ƒ/5.6, 1/250 [Found another spot to get a clean shot of the speaker]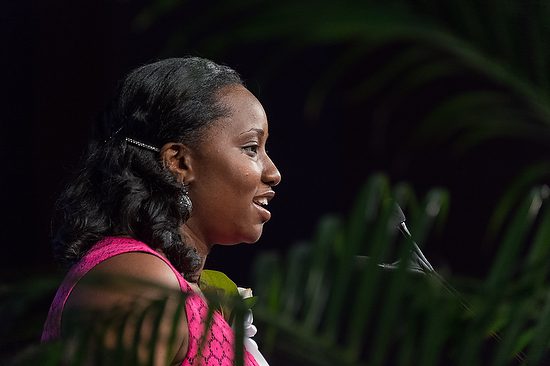 Nikon D4, 28-300mm. ISO 12,800, ƒ/5.6, 1/250 [I am using the plants around the stage as a way to frame the subject.]
Off the stage and informal
Nikon D4, 14-24mm, ISO 12,800, ƒ/10, 1/60 [I put the camera up as high as I could hold it and shot down to give the birds-eye-view of the reception. I also waited for a moment when the people in the foreground were showing their enjoyment of the moment. Also I wanted your eye to go from the front to the back, so I chose to increase the depth-of-field by using ƒ/10.]
My favorite shots at meetings are never from the stage but the small conversations at receptions or just in the halls outside the meetings. This is where you see relationships.
Nikon D4, 14-24mm, ISO 11,400, ƒ/3.5, 1/200 [I came in close to show this moment and used a shallow depth-of-field to keep the focus on the foreground of the two people.]
I think we all so want of a good relationship in our life that we enjoy seeing other relationships as well. We hope to learn something from them and appreciate them. I believe the reason we are here on this earth is for relationship and that our DNA makeup has us pursuing this every day of our lives.
Nikon D4, 28-300mm, ISO 12,800, ƒ/8, 1/250 [Here I wanted to show the ladies listening to their friend and so I used ƒ/8 for a little more depth-of-field.]
Capturing people in relationships of all kinds I believe is the core value of the human race. We celebrate strong relationships through marriages and parties. We punish those who destroy relationships that steal or even kill another. However, even in these situations we can be brought to tears when relationships are restored.
Nikon D4, 85mm, ISO 1,100, ƒ/1.4, 1/250 [Here I wanted to isolate the subject so I used the 85mm @ ƒ/1.4 for a shallow depth-of-field.]
Showing how people are engaged is one way to capture those relationships. Another thing is to show how interesting a person is and this can be done by isolating the subject.  It is the mixing of all these different lenses, ƒ-stops and compositions that help me bring more impact to the moment. While I have chosen sometimes to go wide and other times to isolate, notice how even with their differences of nuance they still have you focused on a relationship.
The reason I think photography is so powerful as compared to words—it has the power to capture the essence in relationships.
My tip to you is to hire photographers who value relationships and to take the time when we photograph people to honor the importance of this by picking the right moments using composition and lighting to celebrate humanity.
I don't want to be a fly on the wall—I want a relationship with those in the photo. My goal is to develop friendships for myself and to connect others to those people.