This is the most helpful software package I own for my business. While I have Adobe Creative Cloud Suite, which I use Lightroom, PhotoShop, and Premier Pro regularly, it is fotoBiz X that runs the business side of my work. Here is a link to the software. I am an affiliate of their program. This is an affiliate link, meaning I receive a commission from any purchases made using the affiliate link. This is at no additional cost to you.
I knew about the software for years but didn't use it. I couldn't figure out the advantages of the software.
Now many years later, I regret having not purchased this earlier. The experience started to teach me that I needed help.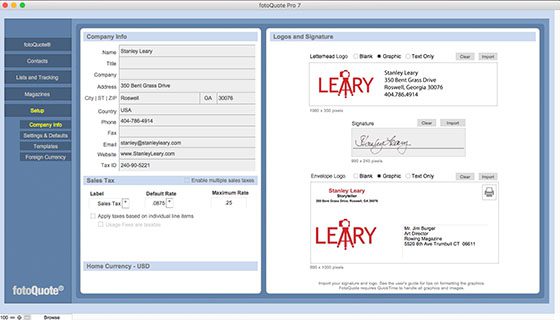 When you first open the program, you should go to setup and put in your information and if you have a logo, put that in as well.
They show examples of what it will look like on a #10 envelope or an invoice.
One thing you will need early on is a model release.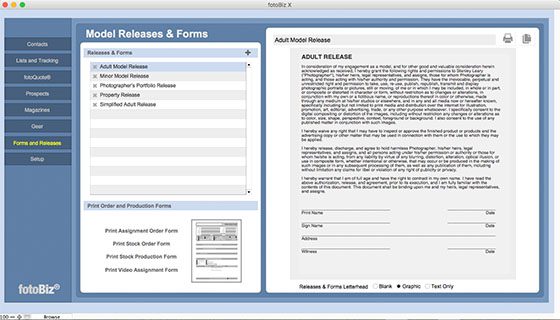 Under "Forms and Releases," you will find five different templates. There is one for:
Adult Model Release
Minor Model Release
Photographer's Portfolio Release
Property Release
Simplified Adult Release
It will drop your name or company name into the form, and then you can print it out.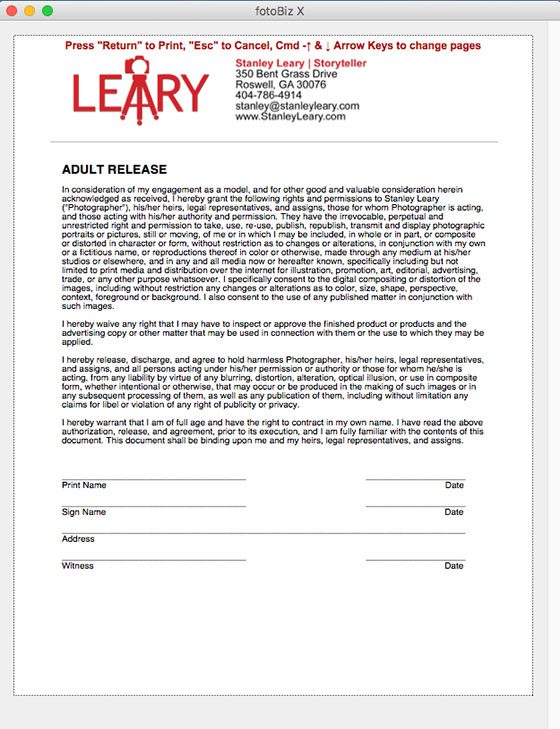 Another problem I was always running into was how you word your cover letters, late payment letters, and even a copyright violation letter. Well, the software comes with many email templates you can use and modify for your correspondence uses.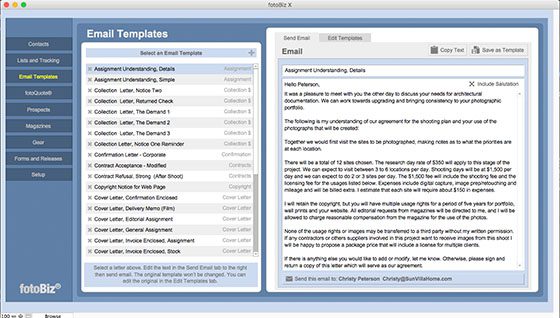 A question I often had early on and continue today is what to charge for specific uses. The fotoBiz comes with fotoquote, which will help you know what you should charge for not only stock used but also assignment work. Here is a link to buy fotoquote.
fotoQuote was just updated to version 7. This includes social media use now in the latest version.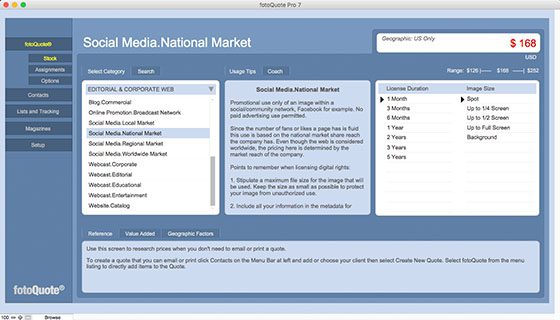 It also has a video and all the possible ways you might want to use it. Now while you may not always get the prices they recommend, these are the prices many are getting in the industry.
This information about prices gives you a better idea of the range of a job and what you can quote. I have learned that fotoQuote has helped me better understand a job's low, medium, and high prices. I give clients three prices most of the time.
The low, medium, and high price quote is based on uses that the client can get and how long they may use the images. Without fotoQuote, I didn't know how to offer three different prices.
fotoBiz also helps you create estimates that can easily be transformed into an invoice with just a click. You can always make the invoice as well.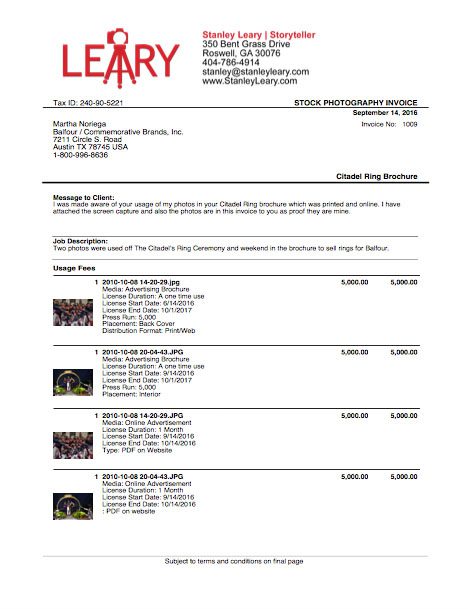 When you sell a stock image, the software lets you embed a thumbnail into the invoice with all the information about the sale. It will ask if you want a reminder on your calendar when the usage is up. This way, you can write a letter not to remind the people that the time is up but to ask if they want to extend it with estimates for developing the usage.
You can download the demo and try it for 14 days free. fotoBiz is just $299. This is not subscription-based software. You own it and can use it forever.
I can tell you that this software will help the freelancer know what to charge and help you communicate with your prospects and clients in putting together estimates, invoices, and even email correspondence.
FotoBiz® has a 30-day money-back guarantee, so what do you have to lose?
Here is a video showing you how it works.