Yesterday I was privileged to speak at THE BUSINESS OF VISUAL JOURNALISM WORKSHOP held at the Grady School of Journalism on the campus of University of Georgia.
Mark Johnson, Senior Lecturer in the Grady School of Journalism, welcomes everyone to the workshop.
The first speaker was Allen Murabayashi, CEO and co-founder of PhotoShelter, who covered fundamental web marketing tactics, essential website design requirements and critical features (plus some advance concepts) that helps photographers better utilize their website as a business and marketing tool and grown their online presence to best generate new business.
Some of the points that Murabayashi covered were very similar to my topics, but a little different perspective.  Hopefully by the end of it all people are realizing that if a few people are mentioning similar things then maybe it is something they should pay attention to.
Allen Murabayashi is very vivacious speaker and kept everyone entertained and informed.
One of the things that we were trying to do in our talks was to help those who are starting out or struggling on what we are doing with our time.  Earlier I wrote a post about how I spend much of my time.  Here is a link to that blog post.
It doesn't take long before you start to see some common themes when you try to apply marketing to any industry.  First of all you must realize that not everyone is a candidate for your services. When you run the numbers it is more likely in the 10% range of those who are interested in hiring you.
You need a large fishing net to be successful when fishing for clients. In that earlier blog post I talked about this process of the Marketing Funnel.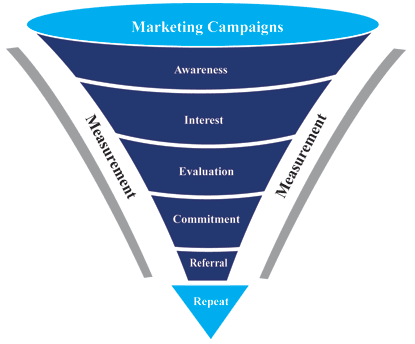 This is the process I talked about earlier.  The idea is to get as many people in the first stage of being aware you are there in the marketplace. At each step you improve that area to help increase the likelihood of people choosing you.
Allen Murabayashi also used the marketing funnel.  He was also letting everyone know that the first thing is to make people aware of your services.  It is very important that you define your niche because otherwise your awareness group has to be even larger than if you are more defined in your niche.
Allen Murabayashi talks about the marketing funnel and how to get people to visit your website and then to use your website to help move them to becoming a client.
Freshman vs Senior Social Networking Skills
Since most in the audience were college students I felt like the best illustration I could use was for all of them to remember what it was like as a freshman.  How when they went to parties they had to go around and introduce themselves and meet folks.  They were proactive and needed to find some friends.
I contrasted how they went to parties as a freshman to as when they are a senior. As a senior you go and usually meet with your friends and just enjoy each other.  You are not looking for more friends you have them.
I challenged the class to act like freshman again and never loose this perspective–looking for friends.
What happens your senior year is graduation. After you leave you discover that many of those friends you had move on and you loose touch.  You are forced to be a freshman again–you are new at your first job and have to make friends again.
Old School Social Networking
I highly recommend getting off your computer where you are on Facebook and Twitter and try the old style of social networking.  Go to meetings, parties and social mixers in your community.
Join an organization and get involved. As you serve you will meet more people. If you have done a good job in defining your niche then it will be easy to identify those organizations where your potential clients are already.
Get involved and serve. One of the best ways to meet everyone is to volunteer to work a registration desk.
How do you grow your business?
The first step in that marketing funnel, after defining your niché, is creating awareness of your services to those who need them. How do you grow your business, grow the numbers of people you come into contact with.