[Nikon D5, Sigma 120-300mm ƒ/2.8 DG OS HSM | S, ISO 5000, ƒ/5.6, 1/250]
If you don't know what you want to capture in a moment, then the odds are that you will not capture that moment.
Take this dance scene from the musical Oklahoma! I wanted to capture all the dancers in a peak moment where they were all in step together, and the light was good on their faces. Just as important was getting the best expressions possible.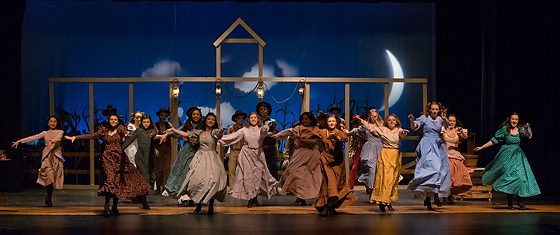 It is difficult to capture the moment when all the dancers are in time together, and all their body parts, hands, and feet are in sync. As you can tell, I have a definite moment in dance numbers that I am looking for.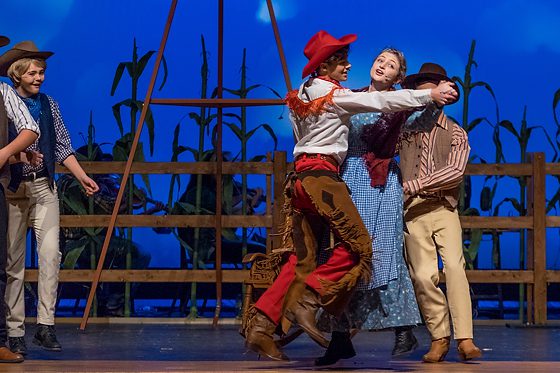 Peak moments with people almost always are where I can see their expressions, and the word brings more to the photo. I remember studying the cowboy art of Russell and Remington. The most significant difference between their work compared to other western artists was in the details of the expressions of their characters.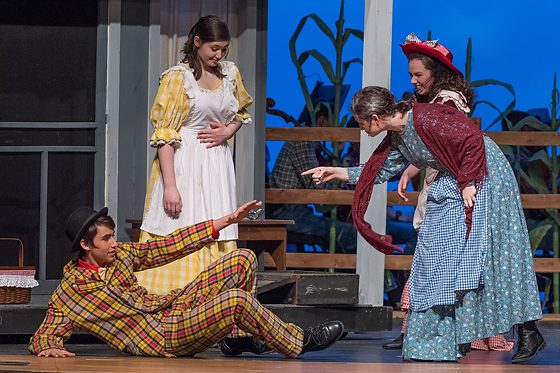 One of the photos I took, even my daughter's friends, had fun with by creating a meme where the reference to this photo of Aunt Eller chewing out Ali Hakim looks a lot like Michelangelo's painting of The Creation of Adam on the Ceiling of the Sistine Chapel. My point here, pun intended, is that significant moments are what artists throughout history have captured.
If you want to know what you need to capture, then study the master painters. The more you become familiar with these iconic images, the more you will recognize those real-life moments.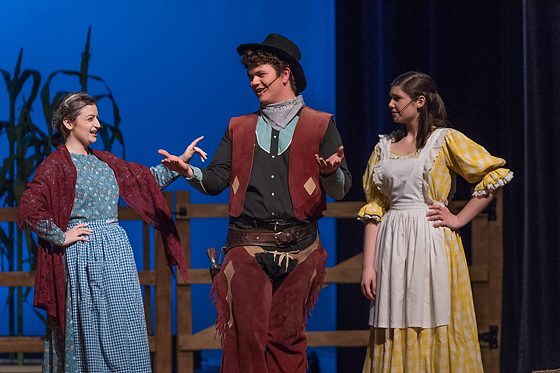 Now laughter and smiles are a good thing to always look for, but please don't try and make all your photos "happy." This is the fastest track to looking fake if you overdo it. You will have coverage that looks like the "Stepford Wives" movie.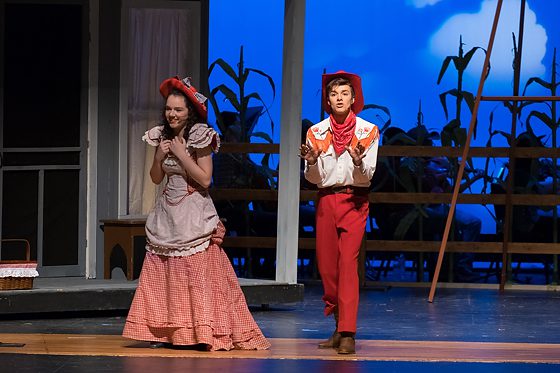 Now the other thing you will notice in most situations is the lighting isn't always perfect as in this photo. Will Parker is in the light, and Ado Annie is not as well lighted. Again you are going for the best moment.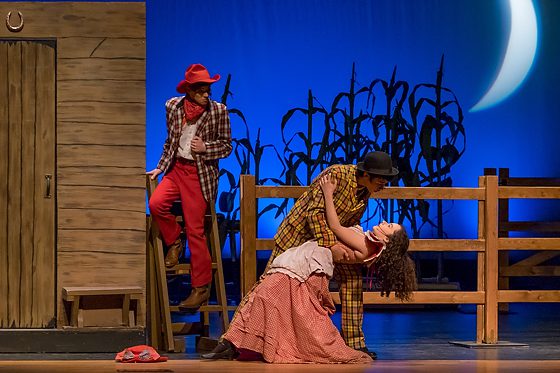 In a musical, the actors do all they can to over-emphasize moments. In real life, you must really pay attention to people and feel their emotional state. This will help you anticipate moments.
Being easily deceived or tricked and too willing to believe everything other people say means you are gullible. You are easily deceived because you haven't taken the time to observe people and pick up on those body language moments that tip you off.
All I can say is you must immerse yourself into storytelling. Watch movies, musicals, and plays, which will give you insights. To see moments study the masters in the arts.