Storyteller Catherine Gray is out early capturing b-roll of the Ciliniroglu children being dropped off at school. [NIKON Z 6, VR Zoom 24-105mm f/4G IF-ED, Mode = Aperture Priority, ISO 1400, 1/100, ƒ/5.6, (35mm = 35)]
Storyteller Catherine Gray was given one of the stories that was to help ABWE missionaries running a school in Santiago, Chile. We asked the missionaries what they needed. One of the primary needs was funds to use as scholarships for the students to attend the school.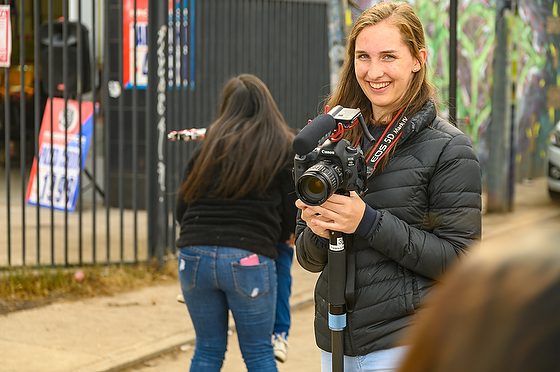 We then asked the team to identify some of the students/families that have benefited from a scholarship. They then gave us this information about one such family.
"Cuneyt & Claudia Cilingiroglu are parents of four students at SCA. He is from Turkey, and she is from Chile. Several years ago, they began a local business making muffins and desserts, but it had a slow start. As a result, money was tight. Through the Student Fund, SCA was able to reduce tuition to allow their kids to continue attending while the business got started."
Watch the video, captured by Catherine, to see how ABWE stepped in and gave them more than just financial help.
If you want to support the Santiago Christian School so they can help more families like the Cilingiroglu family go here to learn more on how to do just that.
If you want to do a workshop like Catherine did to capture this story then go here Storytellers Abroad.