Cole Buchanan is off to get B-Roll of pastor Rodrigo Cisternas. [NIKON Z 6, VR Zoom 24-105mm f/4G IF-ED, Mode = Aperture Priority, ISO 800, 1/100, ƒ/5.6, (35mm = 82)]
Storyteller Cole Buchanan was given this small paragraph and then asked to flesh out the story.
"Rodrigo Cisternas is a graduate of the seminary (Facultad) in Santiago. He is now the pastor of a church in Recoleta that was planted by ABWE missionaries. That church has grown to almost 300 people, and they have worked to start 3 additional churches. He also teaches at the Facultad and has children attending Santiago Christian Academy at a reduced cost thanks to the Student Fund."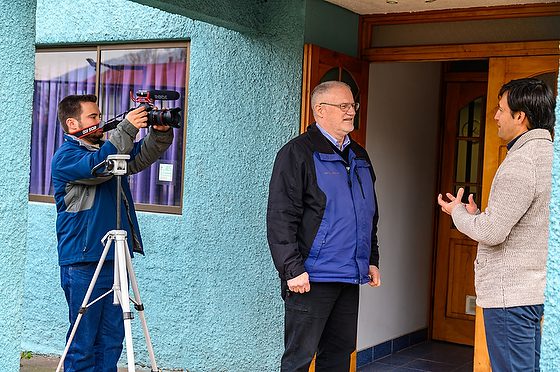 Watch the final video here:
If you are interested in this type of storytelling come join us on future trips, then go here to learn more http://storytellersabroad.com.
If you have an organization and would like to do something like this with you, contact me and lets see what we can do for you.