If you have a staff job in the communications field, the odds of being let go are higher than ever for good reasons.
One of the highest costs for an employer is healthcare. Freelancers come without that cost to the employer. When it comes to cost savings, many companies see this as a good reason to outsource their communications to freelancers and agencies.
When a company hires a creative person, they are stuck with that person's creativity. As the company grows and needs to change, it is much more challenging to do that with creatives who cannot produce different kinds of work beyond their style.
"Say goodbye to full-time jobs with benefits"
"In the Future, Employees Won't Exist" was the headline of the Tech Crunch story.
Microsoft has nearly two-thirds as many contractors as full-time employees. Even the most straightforward business structures, sole proprietorships, have increased their use of contract workers roughly two-fold since 2003.
"40% of America's workforce will be freelancers by 2020," said Quartz. [Update 7-27-22 about 35%]
"Stanley, if you put in as much work as you have been doing at Georgia Tech into your freelance, you will be successful," said a friend in 2002 when I started freelancing full-time.
That was the most profound statement at the time and made me think of treating my freelancing like a full-time job.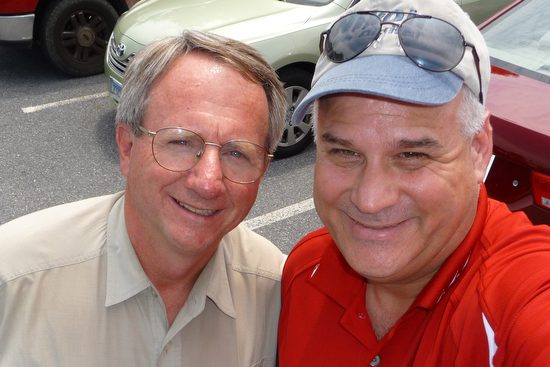 One of the best mentors I have ever had in my life is Ken Touchton. When I started freelancing full-time, Ken called weekly to check on me.
Ken told me how when he started; he would get up, get dressed in a shirt and tie, and then go to the next room and start his day, even if he had no assignments to go anywhere.
If you find yourself laid off and having to look at freelancing, let me give you just a few tips that are very general but worked for me.
Here is one blog post for those who have yet to take the plunge – 9 things you need to do before going freelance full-time.
Some of these tips will link you to past blog posts to help you explore each piece of information more in-depth.
Solve a problem, and then start the business – Your business is to solve a problem for another company. Ask yourself what business problems I am solving for my clients.
Photographer, are you Liked or Loved – You need table food and soul food. The best way to get both is the personal project that shows your business solution through a photo project, for example, that shows how you solved this problem for someone.
How much can you make as a photographer? – You need a good understanding of the cost of doing business. One key element is to know your family budget. If you don't know what your bills are, how much you bring in, and the difference, you will probably fail in business.
When it comes to marketing: Act like a first-year student and not a senior – No one knows you or what you do, so you will have to tell them and communicate how your services will benefit their bottom line.
Create a calendar with actions for you to do. Here are some things that should be on your list:

People to contact by phone [weekly] – These are your clients and prospects.
Targeted marketing campaign – this is where you write a letter that targets people in your database in a particular industry.

Education Market
Editorial Market
Sports
Medical

Blog – this is where you share something that continues to build your reputation as an expert. I recommend three times a week.
 E-Newsletter – I send one out monthly to my clients. This is just a way to reconnect with your audience. Remember to consider why they want to get this, not that you want them to hire you.
Snail mail – you can send handwritten thank you cards to all your recently hired clients. Do this after each job. Maybe create a postcard or some other mailing. Remember, they have to physically touch this before it goes in the mail, whereas emails will get automatically deleted and never seen.
Networking events – You need to be out and meeting new people. I call this fishing with a big net.
Workshops – You need to continue to grow in knowledge, so plan to attend meetings throughout the year to help you expand your skills.