I am putting on a multimedia storytelling workshop in Chiapas, Mexico with Cafe Justo's coffee growers January 9th – 16th, 2016.
I hope you consider joining me and learning how to tell a story doing all of the process yourself with the guidance of myself and James Dockery.
This is James working in one of the edit suites at ESPN. [Nikon D750, AF-S NIKKOR 28-300mm f/3.5-5.6G ED VR, ISO 12800, ƒ/7.1, 1/30]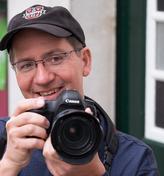 James Dockery, ESPN Video Editor | James works as a lead video editor for ESPN and also operates his own business in Charlotte, NC where he is photographer/ videographer. James has been a photographer for over 30 years and a videographer for over 20 years.
Here is James' website for his photography business outside of ESPN http://www.jamesdockery.com.
While James as you can see is well qualified to teach the subject the main reason I have partnered with him is his personality. James is such an optimist and a person who has a lot of energy and is interesting to be with. James passion for teaching is felt by the students as he spends time with each person being sure they are getting what they need to complete their projects.
Here James is working with student going over her project. [Nikon D750, Nikon 85mm ƒ/1.8G, ISO 500, ƒ/1.8, 1/100]
James loves pastries and here he is making the best of friends of the workers at the local coffee and pastry shop on our trip to Lisbon together. [Nikon D4, 14-24mm, ISO 4500, ƒ/8, 1/100]
James and I enjoy sharing our experiences with workshop participants. We discovered getting each person as much hands on time doing a project and our walking alongside them as they work is much better than a lot of lecture time.
Be sure to go to the
website
and read more about the it and then sign up. Looking forward to seeing you in Mexico.