Fuji X-E2, 18-55mm, ISO 6400, ƒ/2.8, 1/6
Last night some of the students from the PhotogenX were sitting around outside working on their projects that they are presenting this morning. It was well past sunset and just the lights from the court were in the background, but we were sitting where if it were not for the light from their laptops we would be pretty much in the dark.
Fuji X-E2, 18-55mm, ISO 6400, ƒ/4, 1/13
You need a camera that has an ISO 3200 or better. I shot these on the Fuji X-E2 using AUTO ISO with the peak setting at ISO 6400.
I opened up the aperture to the widest setting and since the lens is has a variable aperture, as you go to more telephoto the aperture gets smaller, I was shooting between ƒ/2.8 and ƒ/4.
Fuji X-E2, 18-55mm, ISO 6400, ƒ/3.2, 1/20
As the subjects got closer to the laptops the light from the screens would get brighter on their faces. So the exposure changes just slightly when they lean it to see something.
What you will notice is the shutter speed is slower than normally recommended. 1/6 of a second is pretty slow. The subjects were not moving that much, which really helped. Had this been some sporting activity I could not have done this.
I am not using a tripod.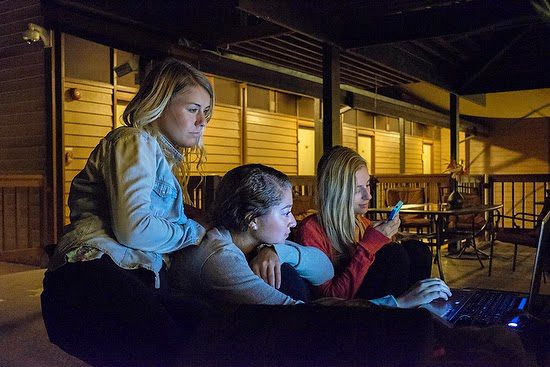 Fuji X-E2, 18-55mm, ISO 6400, ƒ/3.2, 1/20
The vibration reduction system designed into the Fuji X camera and lenses lets me hand hold images almost 4-stops darker than without this system.
What all this means is as long as you remain as still as you can the small movement caused by your breathing and your heart beating will not blur your image.
If you have an older camera that the ISO goes no higher than ISO 1600 this is a great reason to go out and buy some of the newer technology.  If you do look for cameras that will shoot at ISO 6400 or higher. My Fuji X-E2 will go up to 25600, which I have used a few times.