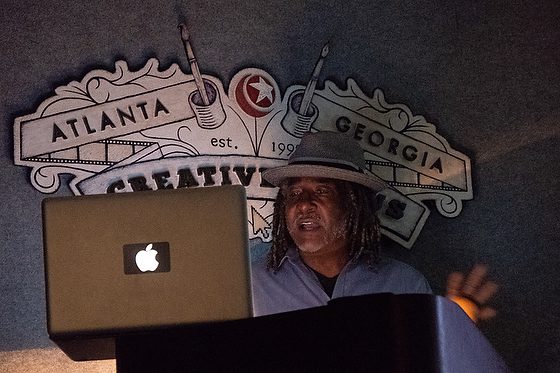 How do some photographers get so successful? I think this is one of the reasons many came to see Jeffery Salter.
Capture Integration sponsored the event. Jeffery is one of their clients using their Phase One backs.
It didn't take long and someone in the audience asked the question, "How did you get hired to be on staff with Sports Illustrated?"
Jeffery said while he was working on newspaper staffs like The Miami Herald he would look for opportunities to shoot medium format. While most staff photographers would continue to shoot all assignments on 35mm SLR film cameras he was shooting on a Hasselblad or Mamiya 6×7.
He shared how he was shooting for where he wanted to work not for where he was shooting. He worked hard to have a style that stood out. His photos are quite surreal in nature and often need much more space to be appreciated than in a newspaper.
He got an assignment to shoot some athletes in their homes from Sports Illustrated. They liked his style and work and after so many assignments brought him on staff not to shoot sports action, but to shoot the behind the scenes of the lives of famous athletes.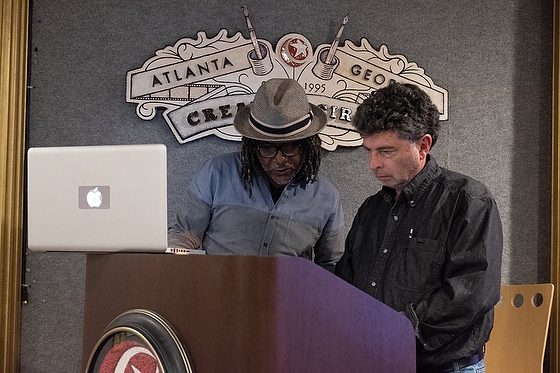 A little while into the presentation Jeffery was showing his work in Haiti. He shot it all medium format with Phase One back. "Why are you shooting with medium format? Who is your client?" was asked.
The person asking the question knew that the magazines cannot show a difference between today's DSLR and Medium format. Jeffery then spoke to that he often doesn't pick the camera for the client but for himself. He wants to be able to have his photos later displayed in the Museum of Modern Art as large as they can be displayed.
He is shooting for the next venue and client.
A couple of tips which are not new but Jeffery also subscribes:
Do self assignments
Learn how light works in nature [he shoots a lot of nature]
Build a photo one light at a time [use strobes to enhance natural light]
Shoot on the very best camera for the situation
Use histogram to be sure you have it in the camera
Now one last thing Jeffery shared that I do, but it was good to hear was he often shoots tethered and is able to open images in PhotoShop or Lightroom and put the curser on highlights and shadows to see the numbers that the computer sees.
Now on gray scale you go from 0% to 100% with amount of light in a scene. The computer records this as 0 to 255.
Jeffery likes his blacks to be around 35 and his highlights to be around 235. he gets the photo in the camera as he always has from his film days shooting transparencies.
Jeffery also answered some business questions as well. To have experiences like this I recommend joining ASMP and come to our meetings. You will be inspired and hopefully from what you learn become a more successful photographer.