Fujifilm X-E2, FUJINON XF 18-55mm, ISO 6400, ƒ/4.5, 1/220
In business your product is just part of why people will do business with you. Now if your product is on par with the rest of the industry then the other thing that people are paying for is EXPERIENCE.
We just spent our vacation traveling to London for an EXPERIENCE. One of the major things we were paying to enjoy was to relive the Harry Potter movies. We wanted to experience the movies as if we were there in them. So here we went to Kings Crossing Train Station to 9 3/4 to get our pictures made as if we were going through the wall onto Hogwarts.
Fujifilm X-E2, FUJINON XF 18-55mm, ISO 2500, ƒ/2.8, 1/100
We went to the House of Minalima. Miraphora Mina and Eduardo Lima met in 2002 when a happy coincidence of fates meant they were to work together as graphic designers on the Harry Potter film franchise. Here they had a unique opportunity to establish the visual graphic style from the outset of the productions. The design aesthetic they created for Harry Potter is still sought after, be it designing collectable merchandise or collaborating on the much anticipated Warner Bros Studio Tour.
Rather than just have a store with items on the shelf they created a self guided tour of their artwork and created moments like we remember of Harry Potter's invitation letter to Hogwarts. They created an EXPERIENCE for us to enjoy.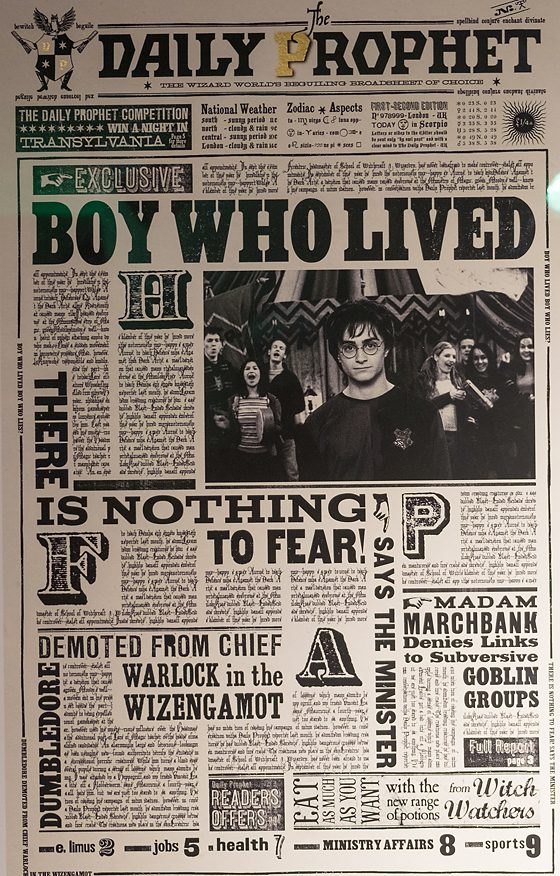 Fujifilm X-E2, FUJINON XF 18-55mm, ISO 640, ƒ/3.6, 1/100
One of the biggest phenomena's in the past few years as related to photography has been the selfie. While we have always done some form of this with photography through the years the selfie stick came along to help us include more people in our photos.
Fujifilm X-E2, FUJINON XF 55-200mm, ISO 800, ƒ/5.6, 1/100
Here you can see all the women getting in close to the London Bobby to get their photo made with him. It is an experience that not only are they having they are now sharing this in their social media. Then their friends will comment on how much they: like, love or other ways of expressing their joy of the photo.
Fujifilm X-E2, FUJINON XF 18-55mm, ISO 640, ƒ/3.6, 1/100
In the Harry Potter tour at the Warner Brother's Studio outside of London they had different things you could do on the tour. Here my daughter is being taught how to dual with a wizarding wand using a mirror to see her style as compared to the teacher on the TV screen to the left.
Fujifilm X-E2, FUJINON XF 18-55mm, ISO 6400, ƒ/10, 1/70
We went on a Harry Potter Muggles tour where they showed us some of the filming spots in London as well as take us to places like Collier Street which was J. K. Rowling's inspiration for Diagon Alley.
Notice the tour guide is dressed in Gryffindor attire and looks like she could easily just walked off the set of the movie. To help us with the EXPERIENCE she had screen shots of the movie [in her hand] that she would pull out at different stops and pass around to help us see in the movie what we were EXPERIENCING first hand.
Fujifilm X-E2, FUJINON XF 18-55mm, ISO 6400, ƒ/3.2, 1/75
Now my daughter dressed up in her Gryffindor robe and enjoyed not only having people ask to be photographed with them, but she was excited to see this guy dressed up as Newt Scamander from the latest movie Fantastic Beasts and Where to Find Them.

Even last night I heard my daughter yell out that the guy dressed like Newt was in another documentary she just saw. Again it is about an EXPERIENCE.
Fujifilm X-E2, FUJINON XF 18-55mm, ISO 6400, ƒ/4, 1/45
One of my daughter's favorite scenes from the Harry Potter series is when Harry Potter talks with Remus Lupin on the Bridge. She is standing where they stood when they filmed that scene. What an EXPERIENCE it was for her.
Fujifilm X-E2, FUJINON XF 18-55mm, ISO 6400, ƒ/5, 1/90
For me it was the scale model of Hogwarts that just let me see the detail for which they created this mystic place that captured me the most.
Question for You
What are you doing to create an EXPERIENCE that people will tell their friends about and want to do business with you.
Fujifilm X-E2, FUJINON XF 55-200mm, ISO 200, ƒ/5.6, 1/200
Can you see your customers smiling at certain points in their interactions with you and your company?
Can you think of something that can create more of an EXPERIENCE than you are doing now?
Fujifilm X-E2, FUJINON XF 55-200mm, ISO 400, ƒ/4.8, 1/110
My trip to London just reminded me that all those little details like clothing can help create something that keeps people traveling from all over the world to get the EXPERIENCE first hand.
Most importantly for everyone in business is to concentrate of creating a great PRODUCT and creating an EXPERIENCE that separates you from everyone else.