My daughter dressed up for Halloween this year as Alice: Madness Returns..
Not a day goes by where I am not hearing or reading some photographer complaining about the new normal for the industry.
What is the new normal?
Here is a list of some of the changes that impacts the industry:
• Instant results – Today the digital camera gives unprecedented quick feedback to the photographer. Before digital you had to wait at least 90 seconds to see an image you just took. Polaroid camera let you create a quick print.
• Auto focus – The biggest area this has impacted in my opinion has been sports. It wasn't that long ago when you had to know how to follow focus to get an in focus photograph of action sports.
• Matrix Metering – The earliest SLR cameras didn't have meters built in. Later when they were built in the photographer still had to know how to use it because just pointing at a scene would not give you consistent results. Today's matrix metering TTL systems allow the camera to take multiple readings through the lens and using very complex algorithms giving extremely accurate exposures. Each time a new camera is introduced, it appears to be even more accurate than the previous generation.
• TTL Flash – We have come a long way since in the days of Matthew Brady where they had to use flash powder to take a photograph in low light situations. You can now control unlimited number of hotshoe flashes within the camera. The accuracy isn't quite as good as matrix metering is with available light, but this is so much better than we have ever experienced.
• YouTube – Today if you want to know how to photograph just about anything you can search for it on YouTube and there will be many videos teaching you how to do this for free.  There are almost no secrets any more that give some photographers an edge over their competition.
• Online Photography Databases – Flickr is just one example of online database that you can search for photos at incredibly low prices or even for free to use. You can upload images and if you do a good job with key wording your images are visible to the world. In the past you had Stock Photography Agencies that you had to use. The agencies would push those photographers whose images typically sold well. They didn't have the time or resources to put just any photos into the system for consideration.
It is very easy to complain about your situation. It is easy to talk about how some people are causing you to loose business.
Photographers need to wake up and realize every business is going through this today. Just look at how many professions are almost gone due to the invention of the personal computer. How many secretaries lost their jobs in the 1980s and 1990s when it first came out?
The United States Postal Service has been crippled due to email. We no longer need them to send a letter to someone.
Why stop whining?
1. Complaining about your work is excusing yourself from responsibility. You are only convincing yourself it isn't your responsibility and no one else.
2. You are annoying everyone. You may find yourself being defriended on Facebook or just not knowing they are no longer paying attention to you.
3. You are wasting time and being nonproductive.
This is a Habitat for Humanity volunteer helping a family improve their situation with affordable housing.
Take charge of the situation
1. Look for solutions – Blowing off a little steam is OK and even healthy to do. Learn to roll with the punches. You need to focus on talking through a situation to look for solutions rather than just talking in circles.
2. Be the hero and not the victim – When you are feeling frustration remember it is rooted in fear. What are you afraid of? Once you have identified your fear it is much easier to then to address what you need to do to overcome this obstacle.
3. Count to ten – When you feel that urge to complain, stop and look for a solution.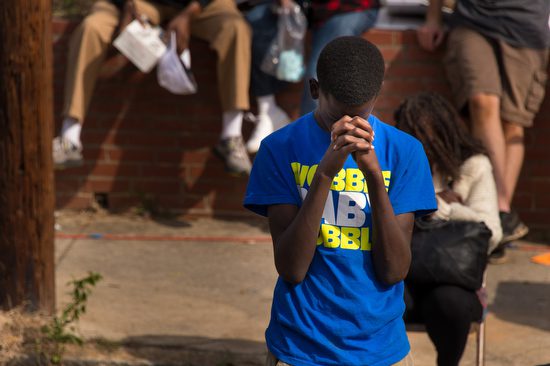 Pray
The American theologian Reihold Niebuhr wrote the Serenity Prayer that was later adopted by the Alcoholics Anonymous and I recommend for Whiners.
God, grant me the serenity to accept the things I cannot change,
The courage to change the things I can,
And the wisdom to know the difference.
According to a University of Wisconsin-Madison sociologist, 75 percent of Americans who pray on a weekly basis do so to manage a range of negative situations and emotions — illness, sadness, trauma and anger.  What is often happening with people who pray is they are considering another point of view. In the case of prayer they are considering God's perspective.
If you are unwilling to acknowledge that your perspective is limiting, then you may never get over whining.